Livestock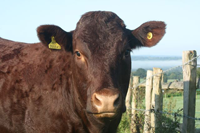 The beef is from our prize winning Sussex cattle herd which grazes Offham and Hamsey brooks – which are a designated Site of Special Scientific Interest (SSSIT). The ground is not fertilized or treated with chemicals to protect the habitat and wildlife. Sussex cattle are the local indigenous breed for this area, specially known for their fantastic flavour. All our beef is hung for three to four weeks to make it very tender and improve the flavour further.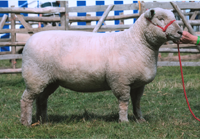 The lamb is from our flock of Southdown sheep. Our flock is internationally renowned, winning numerous supreme interbreed titles (best in show) at both breeding and fatstock exhibitions. Southdown sheep are also the local breed for Sussex having been developed at Glynde 200 years ago by John Ellman, they have outstanding flavour enhanced by grazing the downland turf on the hills above Lewes which is another SSSI that is unfertilized or chemically treated.
In winter the sheep and cattle are fed on cereals, hay and straw all produced on our farm here in Offham.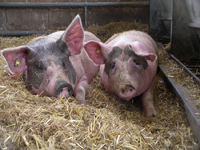 The pigs on the farm are Large White crossed with Large Black pigs to make a 'blue' pig. They combine the fast growth of  commercial white pigs with the flavour and docility of the native black pigs. We make our own delicious sausages, bacon and Gammon in the shop.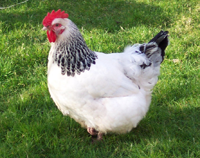 The farm has a small flock of happy hens that produce beautiful brown eggs, sometimes if you are lucky you might get a blue egg! The hens and pigs are also fed on home grown cereals.
The farm has its own bee colonies too producing honey for the shop when the weather permits.
Mill Laine Barns are luxury rural cottages for self-catering holiday rental, British Tourist Board graded 4 star and 5 star.